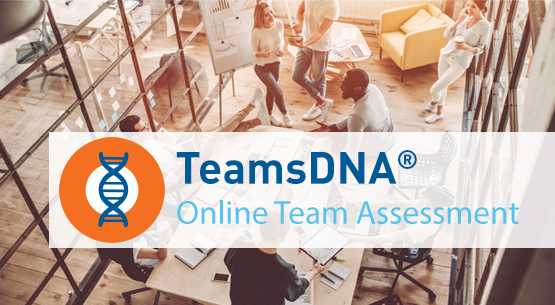 Introducing TeamsDNA: a new innovation from HFMtalentindex
Introducing TeamsDNA: a new innovation from HFMtalentindex
Your team, your talent, our tools!
Research shows that effective, multidisciplinary teams are critical in complex and constantly changing work environments. Team performance can be the decider between success or failure. High performing teams don't develop in isolation. It is important to actively assess and develop the qualities of your team to ensure increased performance and ongoing effectiveness.
Objectively measure and grow your team
We are proud to introduce our new online, integrated team assessment. TeamsDNA has been designed to give managers, executives, HR and talent specialists detailed insight into the characteristics and dynamics of a team and its people.
The TeamsDNA individual and group-level reports help you to determine if the team is headed in the right direction, whether there are group strengths or development areas, whether the team is learning agile and how to manage the different roles and communication preferences.
Reports are designed to be directly applied within a workshop or group-learning context, with both team-level views and individual dashboards available. With this in mind, the group-level results can be shared with the team in a practical development-focused session, with a collaborative focus on trends, strengths and possible areas of growth.
What does TeamsDNA consist of?
The reports aim to provide a broad overview of team qualities. These are measured via competency potential, Learning Agility, motivations and cognitive ability (optional).
Competency potential: How does the team's personality drive their performance?
Learning Agility: Is the team agile in the face of change?
Motivations: What drives the team to perform better?
Cognitive ability: What are the team's problem-solving strengths?